Green Wallet, Green Swap, NFT marketplace, cross-chain protocol and other products that are combined with one GAD token.
We are developing a new mobile ecosystem for green blockchain technologies and are looking for investors.
Start investing in the development of green technologies today!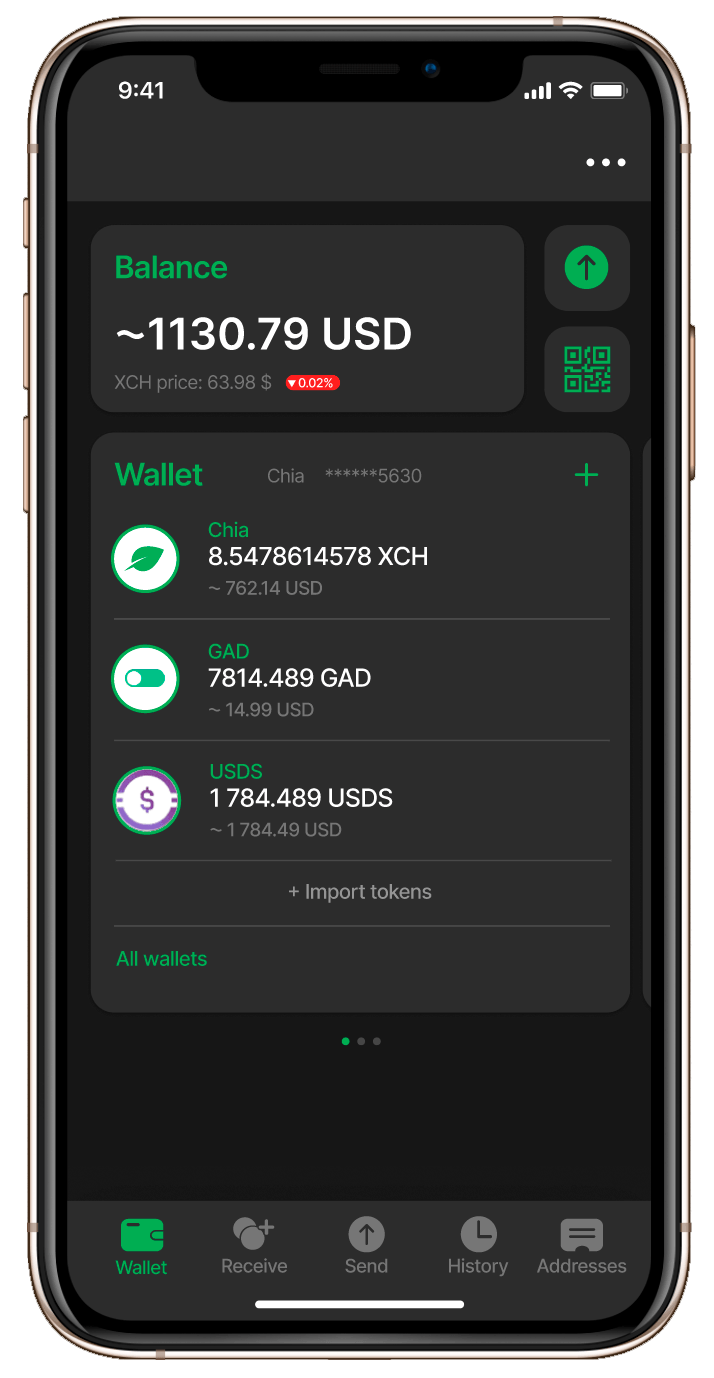 We create the basis for the future market of green cryptocurrencies: wallets, exchanges, marketplaces, bridges, etc.
Our main task is to make these new technologies available to the whole world through our own product ecosystem, which will act as a bridge between the ordinary user, investor, corporation and green blockchains.
Join our community. Let's make history together!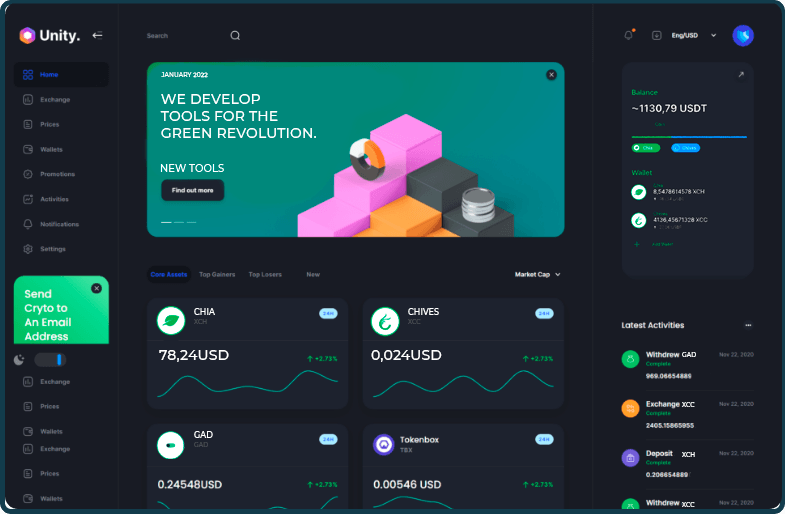 TOTAL DISTRIBUTION OF GAD TOKENS
The start of work on the project and the minting of the GAD token
At this stage, the concept of future products and the economic model of the project are created.
Website launches and 1 billion GAD tokens minted on the Chia & Chives blockchain. 
Development of UI / UX design of the mobile version of the wallet.
Launching advertising campaigns and protype release
Sale of GAD tokens (Round 1)
Development and release of a UI/UX prototype of a mobile wallet version with support for Chia, Chives and other tokens.
Launching an online advertising campaign.
Launching airdrop in Telegram.
Giveaway launch.
Launch of a PR campaign.
Start of mobile wallet development
Start of development of the MVP version of the mobile wallet for Android and iOS.
Sale of GAD tokens (Round 2)
UI/UX design development Green Swap.
Start of Green Swap development
Start of Green Swap development.
Closed b-testing of the mobile wallet.
Open b-testing of mobile wallet.
Fixing bugs and preparing for the release of the working version.
Development of UI/UX design for NFT marketplace.
Mobile wallet release and start of cross-chain protocol development
Release of the working version of the mobile wallet on Google Play and the App Store.
Launching an advertising campaign to attract mobile wallet users.
Launch of the development of the backend part of the NFT marketplace.
Start of cross-chain protocol development
Launch of Green Swap and integration of exchange functions into mobile wallet
Closed b-testing Green Swap.
Open b-testing Green Swap.
Launch of the MVP version of Green Swap.
Start of development of the front-end part of the NFT marketplace.
Integration of exchange functions into a mobile wallet.
Integration of the token issuance function in the mobile application & cross-chain protocol launch.
Cross-chain protocol launch.
Integration of the function of issuing tokens for the Chives and Chia blockchain in the mobile application.
Implementation of the daily airdrop function for tokens.
Green Swap Listing on Coinmarketcap
Start of development of the Green Starter project
Launch of NFT marketplace
Launch of an NFT marketplace with the function of issuing NFT cards. The GAD token will be used as a means of payment.
Launch of the Green Starter platform and listing
Launch of the Green Starter platform.
Launching our own platform of native advertising integrations.
Conducting an IEO
and listing of the GAD token on the exchange.
Attracting investors & etc.
Attracting investors and venture funds.
Listing on new exchanges.
Aggressive marketing campaign.
Development of the concept of own NFT game.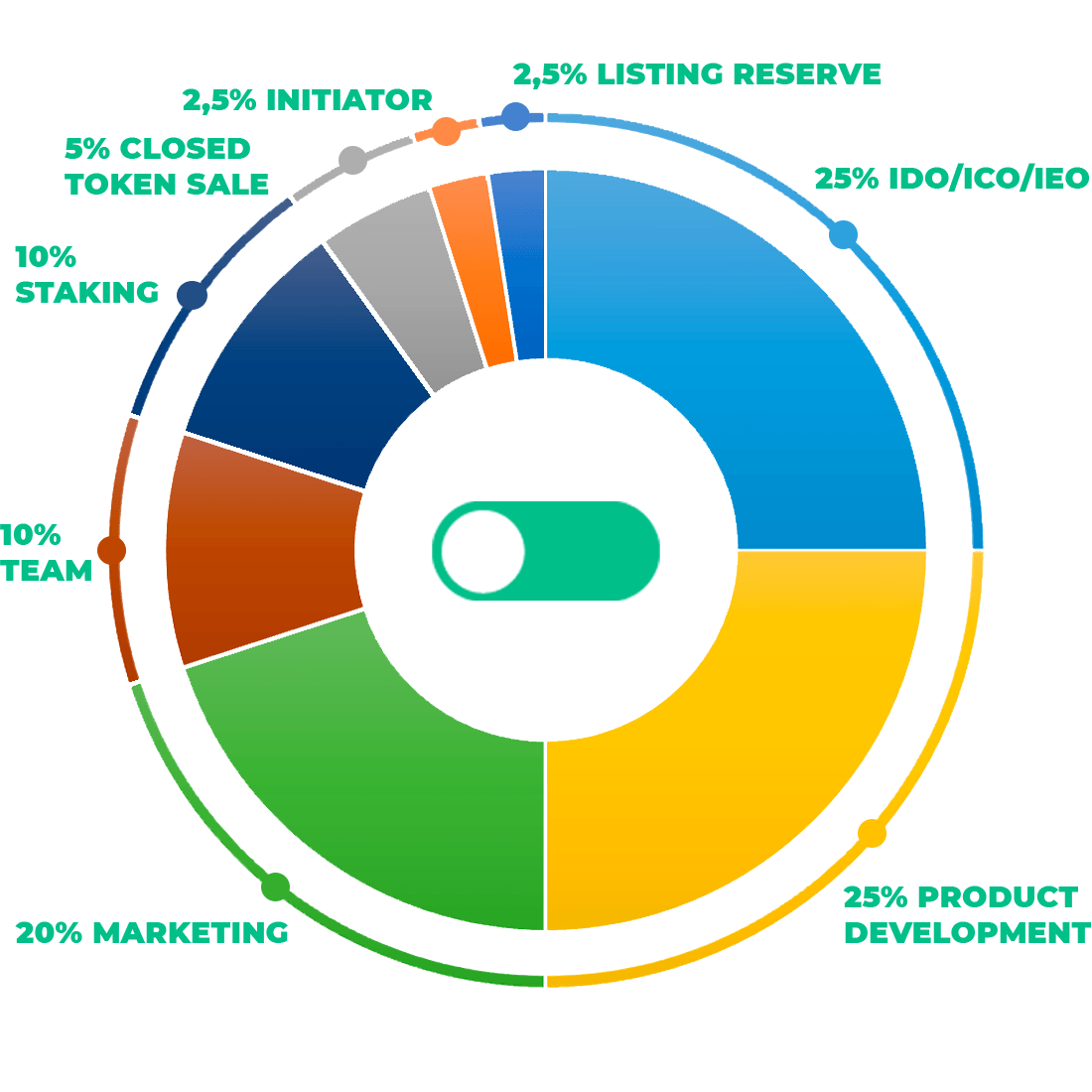 Total issue: 2.000.000.000
Maximum circulation supply: 1.000.000.000
Ticket: GAD
Blockchain: Chives blockchain, Chia blockchain
Asset ID Chives:
05b99ec6e8f1142d7b2a4330a6946b0a3dd0f1a7de5fa30b90578fa9ae7ee045
Asset ID Chia:
1dd54162ec6423211556155fa455d4ed1a52ad305e6b5249eba50c91c8428dfb
Description: This is the first commercial token issued on the basis of the Chives and Chia blockchain. We expect to be the first green token to pass ICO/IDO.
After the development of the cross-chain protocol, the token will become available on other blockchains (Solana, Binance, etc.)
Application: payment of fees and services in a new ecosystem of products for green blockchains.
Become a part of our community!
We encourage you to join us and contribute to the future green ecosystem that will be the basis of the new market.
Is the token available on both Chia and Chives blockchains at once?
Our mission is to bring green communities together, the report to the question is yes!
Both projects have no benefits for new tokens and we decided to issue a token on two Chia & Chives blockchains.
What is the total supply of the GAD token?
Are you really planning an IDO/ICO/IEO?
Yes, we do plan to do IDO/ICO/IEO. This is necessary to raise funds for the development of secure products for green blockchains.
We understand that we may encounter some difficulties when conducting such activities, since the GAD token is the first token on the green blockchain that will conduct IDO / ICO / IEO.
How to get your token for free?
You can participate in upcoming Airdrops on our social networks. We plan to give 100,000,000 GAD to our community members for free.
Where can I store my GAD tokens?
To store tokens, you can use the Chives Swap web wallet or the Chia and Chives Light wallet.
To add a GAD token, use the asset ID:
– for Chives blockchain 05b99ec6e8f1142d7b2a4330a6946b0a3dd0f1a7de5fa30b90578fa9ae7ee045
– for Chia blockchain 1dd54162ec6423211556155fa455d4ed1a52ad305e6b5249eba50c91c8428dfb
How can I buy GAD tokens?
Currently, GAD tokens cannot be bought on decentralized and centralized exchanges.
We plan to hold a closed token sale in February-March 2022 to attract a small amount of investment.
The exact date will be announced later. To purchase tokens during the closed sale, write to ceo@green-app.io
Are you planning to list on the stock exchange?
Yes, listing on the exchange is scheduled for the end of 2022.
At the moment, we have not exactly decided on which exchange our first listing will be made, but in many respects it will depend on how much investment we can attract and how our community will grow by then.
How to create a wallet GOBY for using GAD tokens? GOBY – is an open-source
How to create a wallet for GAD tokens? Before creating a wallet, you need to