Green Wallet is an open source non-custodial wallet for Chia (XCH).
Get notifications for incoming and outgoing transactions, securely store your assets on the Chia network, send and receive CAT tokens in a user-friendly Green Wallet interface.
Download our app now and get in touch with the Chia Network ecosystem!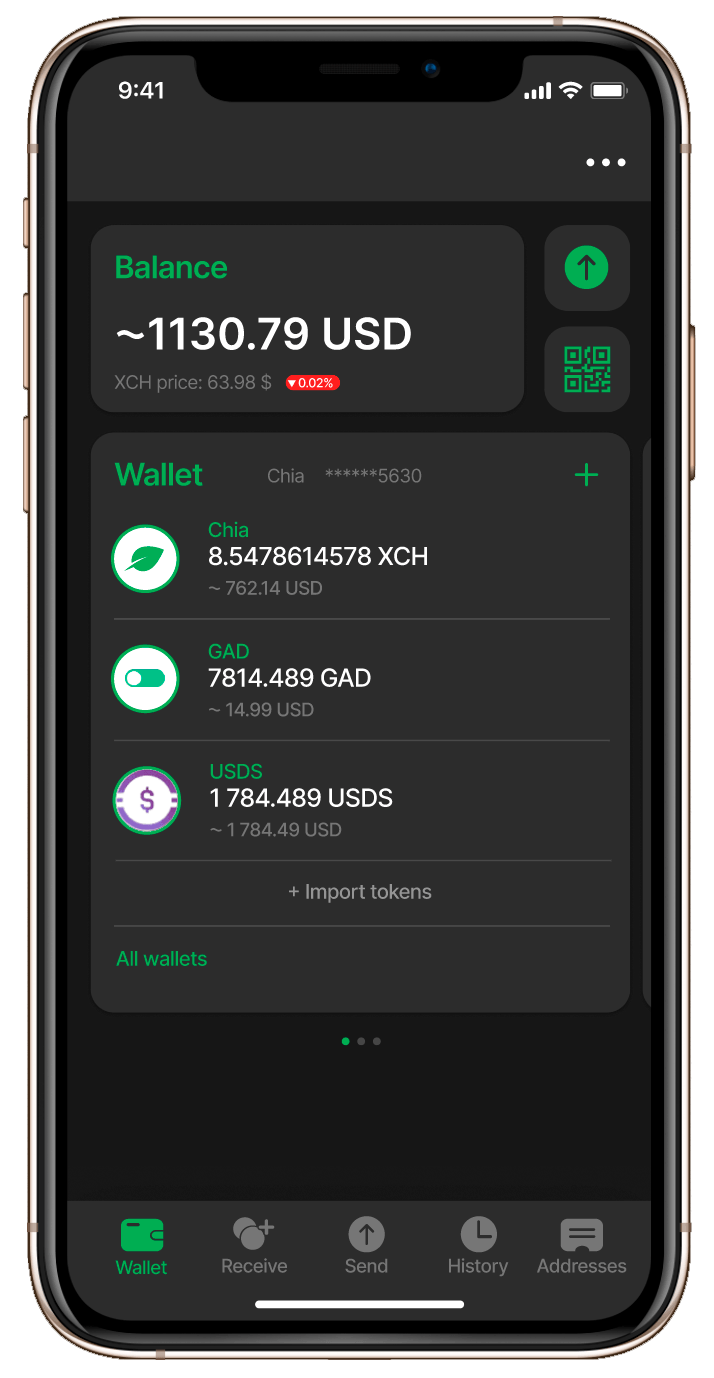 We are creating the basis for the future market of green cryptocurrencies – a wallet that supports CAT2, NFT1 standards and other tools available on the Chia blockchain.
Our main task is to make these technologies available at a touch to anyone. To do this, you only need a smartphone.
Join our community. Let's make history together!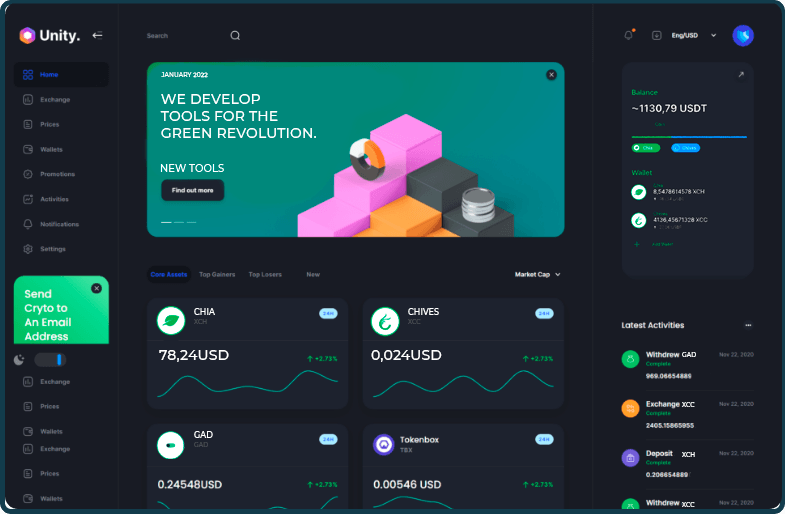 Getting started on a project
At this stage, the concept of future products and the economic model of the project are created.
Website launched, 1 billion GAD tokens minted on the Chia blockchain.
Development of UI / UX design for the mobile version of the wallet.
Start of mobile wallet development
Start of development of the MVP version of the mobile wallet for Android.
Release of the Android version of the application
Chia mobile wallet MVP release for Android
Adding exchange and NFT features
XCH/USDT exchange functionality implemented
NFT and DID support functionality implemented
Development of openapi to work with dApp
Implemented own openapi for working with dApp
Implemented the ability to create and accept offer files
Embedded DEX and iOS Development
Implemented the functionality of decentralized exchange of offer files in the application
Start of iOS development
Release of the iOS version of the application
Release of a fully functional version of the Chia mobile wallet for iOS.
Total issue: 1.000.000.000
Maximum circulation supply: 1.000.000.000
Ticker: GAD
Blockchain: Chia blockchain
Asset ID Chia:
7108b478ac51f79b6ebf8ce40fa695e6eb6bef654a657d2694f1183deb78cc02
Description: GAD is a CAT2 token issued on the Chia blockchain.
After the development of the cross-chain protocol, the token will become available on other blockchains (Solana, Binance, etc.)
Application: payment of fees and services in a new ecosystem of products for green blockchains.
GAD token unlock schedule
Become a part of our community!
We encourage you to join us and contribute to the future green ecosystem that will be the basis of the new market.
How to get your token for free?
You can participate in upcoming airdrops on our social networks or receive tokens for completing tasks.
Where can I store my GAD tokens?
To store tokens, you can use Goby wallet web wallet or Chia light wallet.
To add a GAD token, use the asset ID:
– 7108b478ac51f79b6ebf8ce40fa695e6eb6bef654a657d2694f1183deb78cc02
How can I buy GAD tokens?
Currently, GAD tokens can only be bought on decentralized exchanges that support CAT2 tokens.